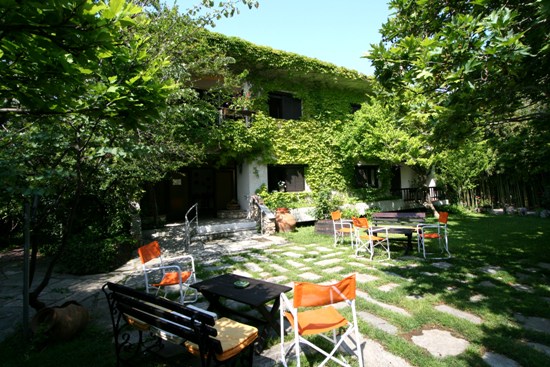 Enjoy family vacations by the beach in a green environment
The Hotel "Alexandridis", is a traditional small hotel in Rovies, a beautiful and picturesque small village nearby the sea in North Evia island. Situated in an 8-acre farm, with cosy green corners in the garden, just 50 meters from the sea, it is open all year round. A beautiful hotel with monastic architecture, an interior courtyard with balconies all around, it is a really unique and worth visiting hotel. Also, there is a big playground and it is undoubtedly a great way to relax and enjoy the beautiful garden. It offers a private parking-lot and it is next to one of the most beautiful beaches of N.Evoikos Bay.
There are 8 four-bedded and 7 two-bedded apartments with air-conditioning, TV set , phone, Wi-Fi, kitchen corner, bathroom and a balcony oversees the great scenery of Nature.
Enjoy the homemade-traditional breakfast in the garden or in the comfortable and cosy lounge with a fireplace for the cold, winter days.